Canvas Messenger Bags and Shoulder Bags
Shop vintage canvas messenger bags, and shoulder bags at GENTCREATE. Affordable and practical, made with high-quality waxed cotton canvas.
Our Canvas Messenger Bags
Looking for a messenger bag that combines style and functionality?
Look no further than our collection of canvas messenger bags. Crafted from durable and high-quality materials, these bags are perfect for anyone who wants a versatile accessory that can keep up with their busy lifestyle.
Canvas Shoulder Bag: The Ultimate Accessory for Any Occasion
Whether you're heading to work, school, or just out and about, our canvas shoulder bag is the perfect accessory to complete your look. With a spacious main compartment and plenty of pockets, it's the ideal choice for carrying all your essentials.
Messenger Bags: A Classic Style That Never Goes Out of Fashion
For a timeless accessory that will always be in style, choose one of our messenger bags. From military-inspired khaki designs to modern crossbody options, we have something to suit every taste and preference.
Fabric of our Bags
Information about the materials we use
The very essence of crafting the perfect piece of luggage, be it a bag or backpack, lies in the fabric itself. Here at GENTCREATE, we firmly believe in this philosophy, which is why we undertake the painstaking process of sourcing only the crème de la crème of canvas and other durable materials for our products.

Our canvas messenger bags are meticulously handcrafted from a tightly woven cotton fabric that boasts unparalleled strength and flexibility, ensuring a comfortable fit and effortless movement. The high-density fibers that comprise the fabric imbue it with an unrivaled resistance to punctures and tears, rendering it practically invincible and guaranteeing years of faithful service.

But that's not all - we go above and beyond by also incorporating other tough-as-nails materials such as nylon and polyester to further fortify our bags against inclement weather conditions. These superlative fabrics offer added protection against the elements, making our bags the go-to choice for all your outdoor escapades.

And the best part? Our fabrics are not only functional and resilient but also a visual feast. We present you with a plethora of eye-catching colors and patterns, ranging from timeless khaki to military-inspired prints, to cater to your unique style sensibilities.

So, whether you require a dependable school bag, a pragmatic travel companion, or a chic everyday accessory, our messenger bags are unequivocally the best choice. You can trust that our premium-quality fabrics and expert craftsmanship will furnish you with a product that will endure the ravages of time with unflagging resilience.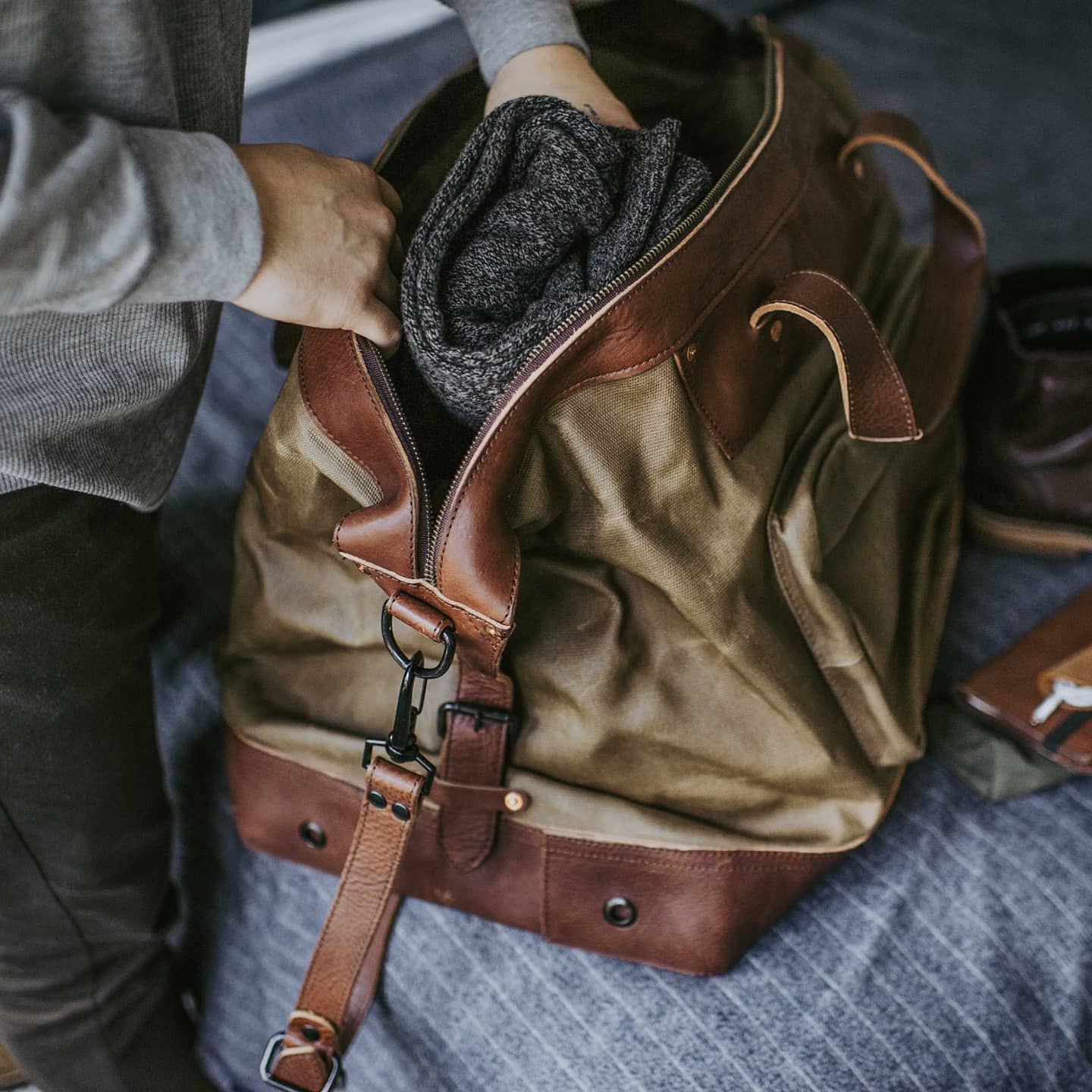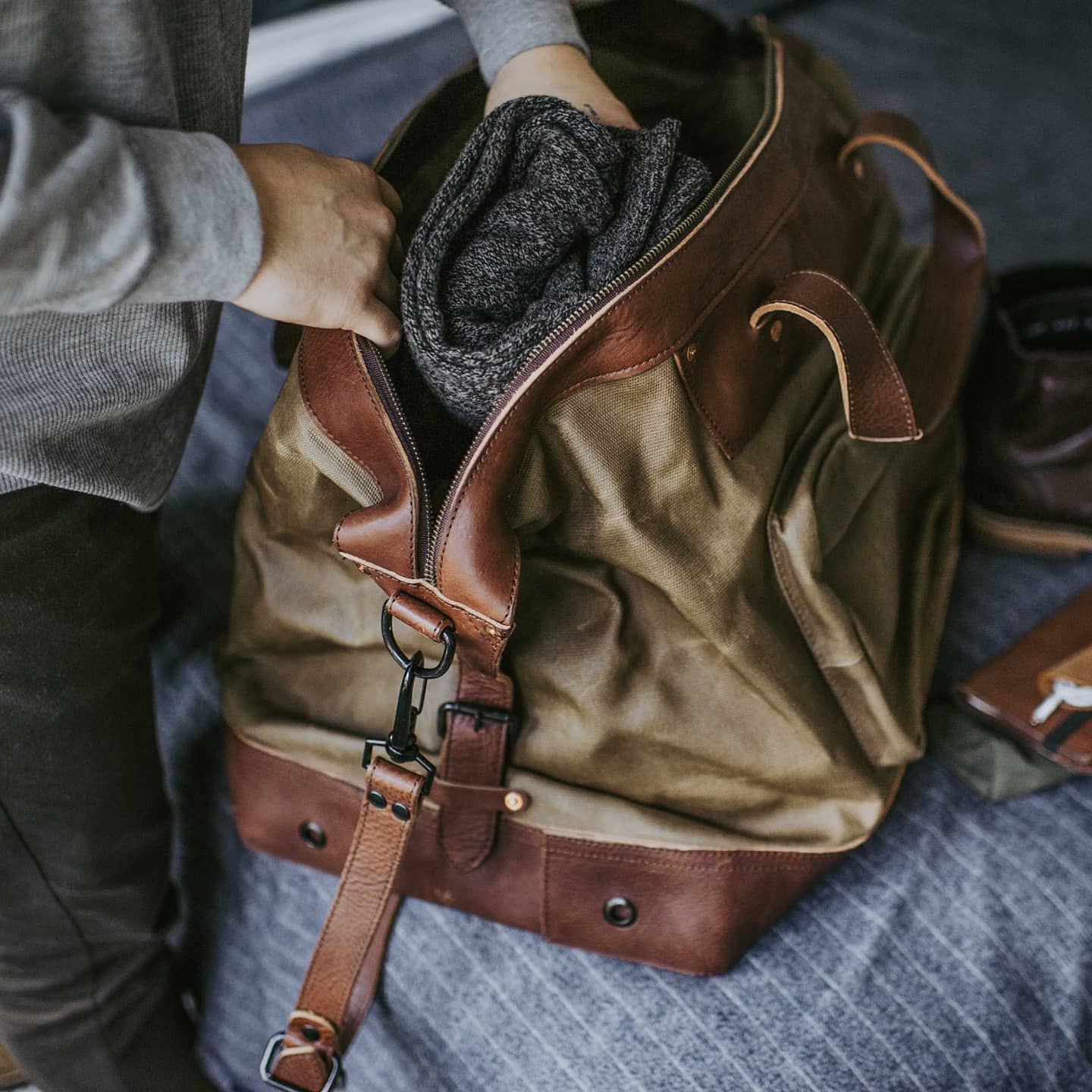 Pockets: Keep Your Belongings Safe and Secure
Why are pockets so important for your bag?
The secret to a perfectly organized life is not just about style, it's also about functionality. That's why our canvas messenger bags feature multiple inner and outer pockets that are designed with both fashion and practicality in mind. The pockets come in all shapes and sizes, so you can keep everything in its rightful place without sacrificing style.

Whether you're a busy student carrying books and papers or a professional with a laptop and office essentials, our bags are tailored to your needs. The spacious main compartment is perfect for larger items, while the smaller pockets on the front and sides offer additional organization options for smaller items like your phone, wallet, and keys.

No more digging through a cluttered bag to find what you need! With our messenger bags, everything is right where you need it to be. Stay organized and stylish with our collection of canvas messenger bag designs - the ultimate solution for all your storage needs.
Canvas Shoulder Bag & Cotton Canvas Bags
WAXED CANVAS BAGS FOR MEN
Men's waxed canvas bags, waxed canvas messenger bags, waxed canvas duffle bags, waxed canvas crossbody bags, waxed canvas camera bags, and waxed canvas toiletry bags have reached star status as far as trends go.

Demand for messenger bags has risen to star heights!

Within our store at Gentcreate we are here to meet that need, and offer the highest quality waxed canvas bags made in the USA, UK, Sweden, and China.

We have gathered passionate designers that love all things gentlemen to construct specific styles that are both unique and classy at the same time.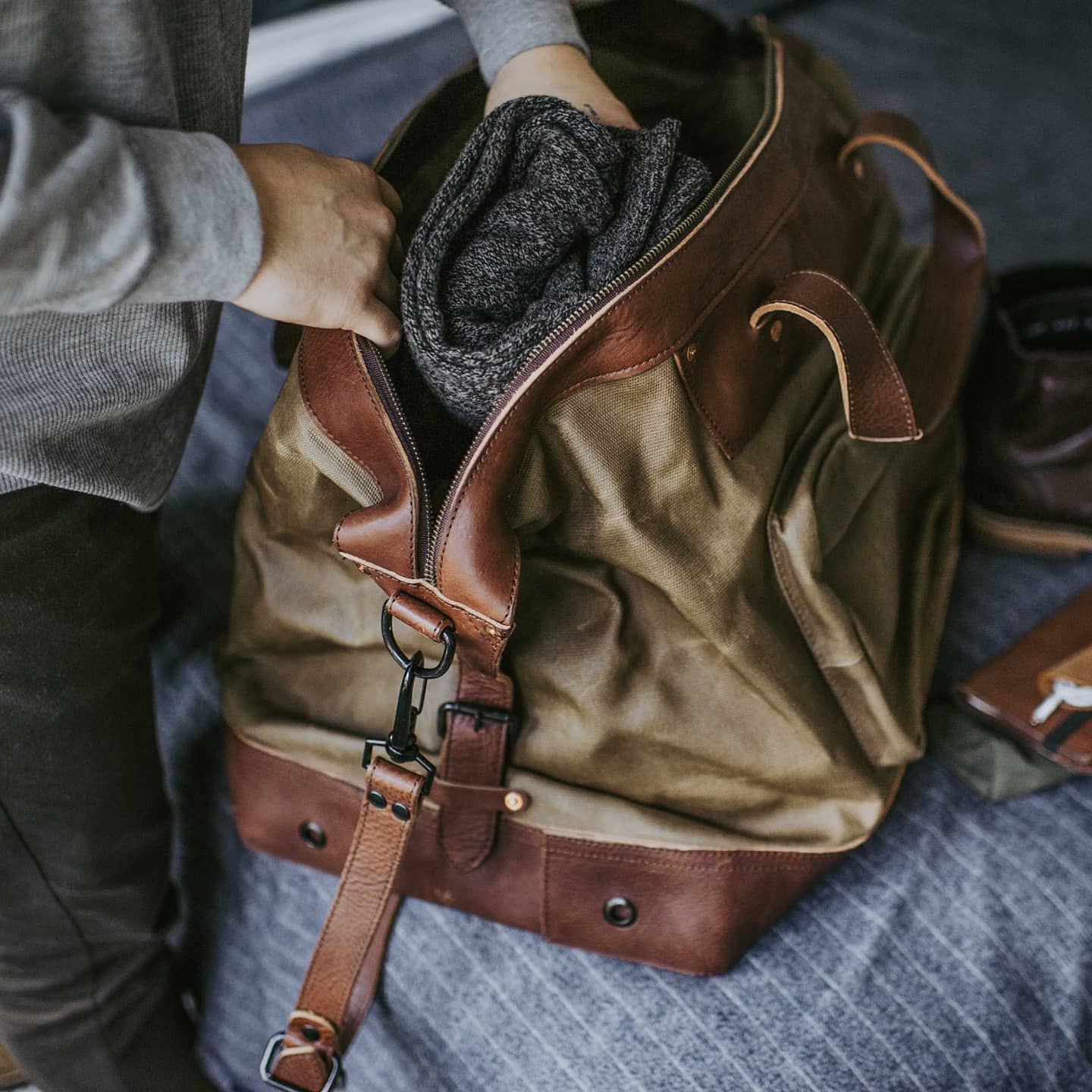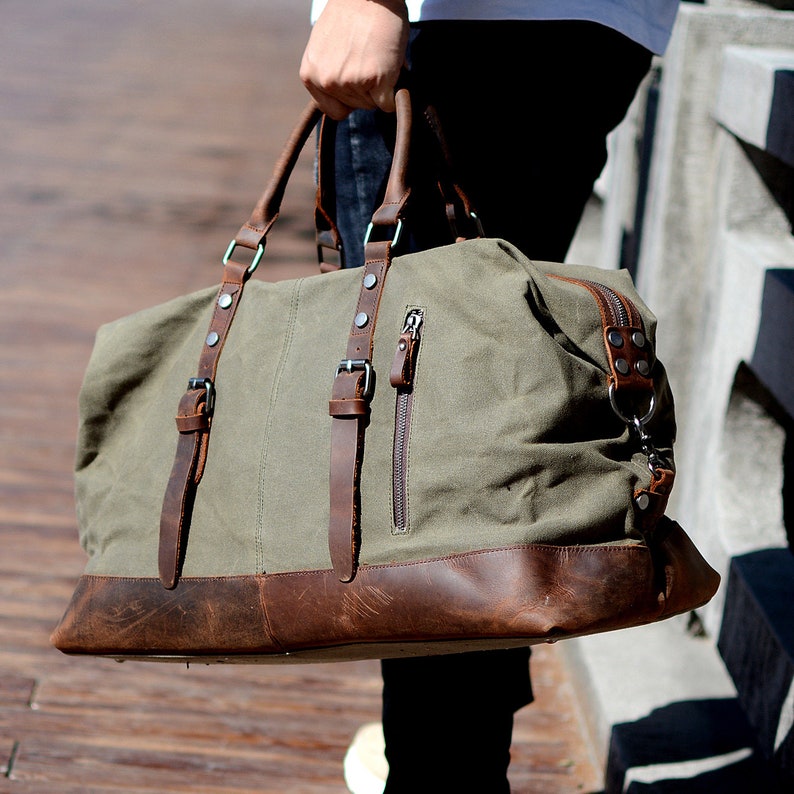 Sustainably Sourced Waxed Canvas
RETRO CANVAS BAGS & MEN'S RETRO CROSSBODY BAGS
Within our special dedicated men's waxed canvas bag collection, you'll find special vintage retro canvas bag designs you will love!

Browse our high-quality bags for men collection where you will find retro canvas duffle bags, retro canvas messenger bags, retro canvas weekender bags, retro canvas camera bags more specifically retro canvas DSLR camera bags.

We build special models all the way niched down to men's retro canvas travel shoulder bags messenger bags and waxed vintage bags in many colors such as black canvas bags, brown canvas bags, and army green waxed canvas bags.
1950s Style Bags & 1960s Style Bags
HOW CANVAS BAGS & RETRO CANVAS BAGS AGE WITH TIME?
Canvas backpacks change with time, they will be very smooth at the start, of course depending on the exact canvas & how it was worked, but with smooth canvas materials, it will remain as such for a long time before becoming stiffer & less smooth, giving it that vintage look.

If you use your bag as a travel bag, it may get a bit rugged to wear and tear especially if it's used as a carry-on canvas bag.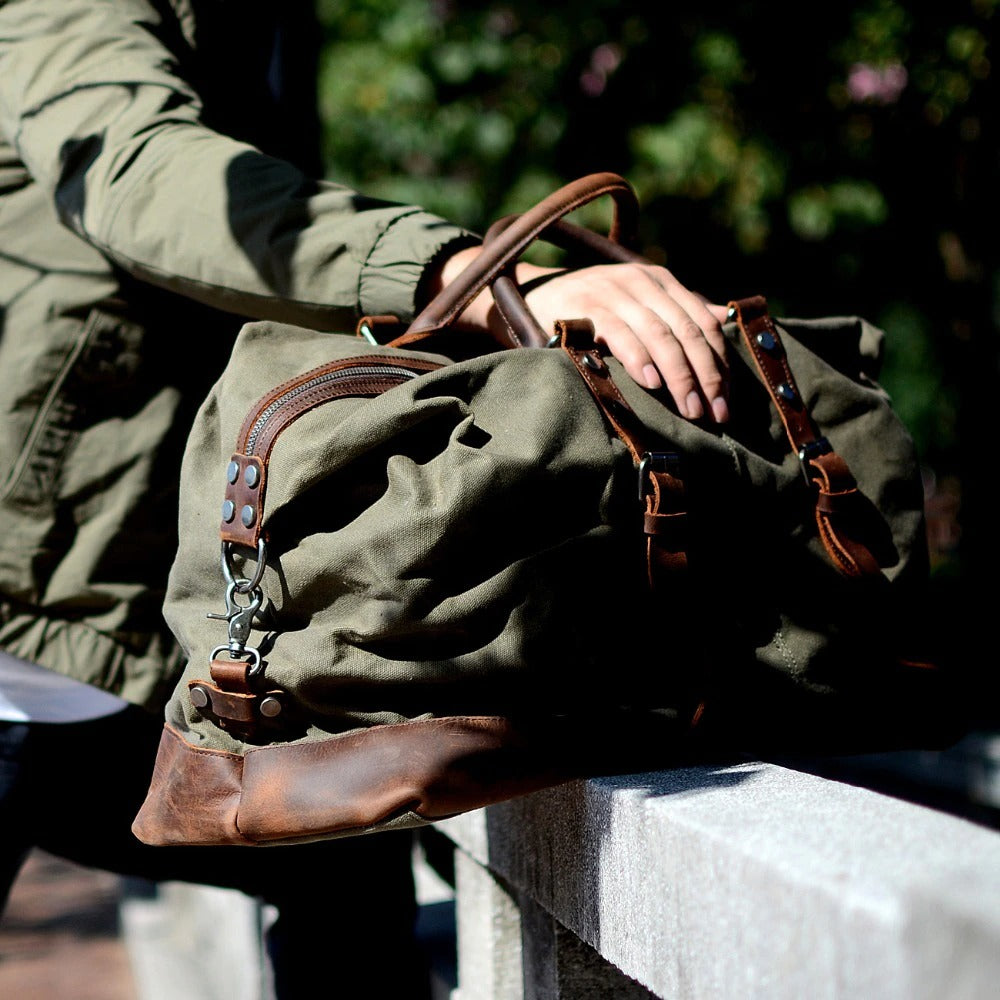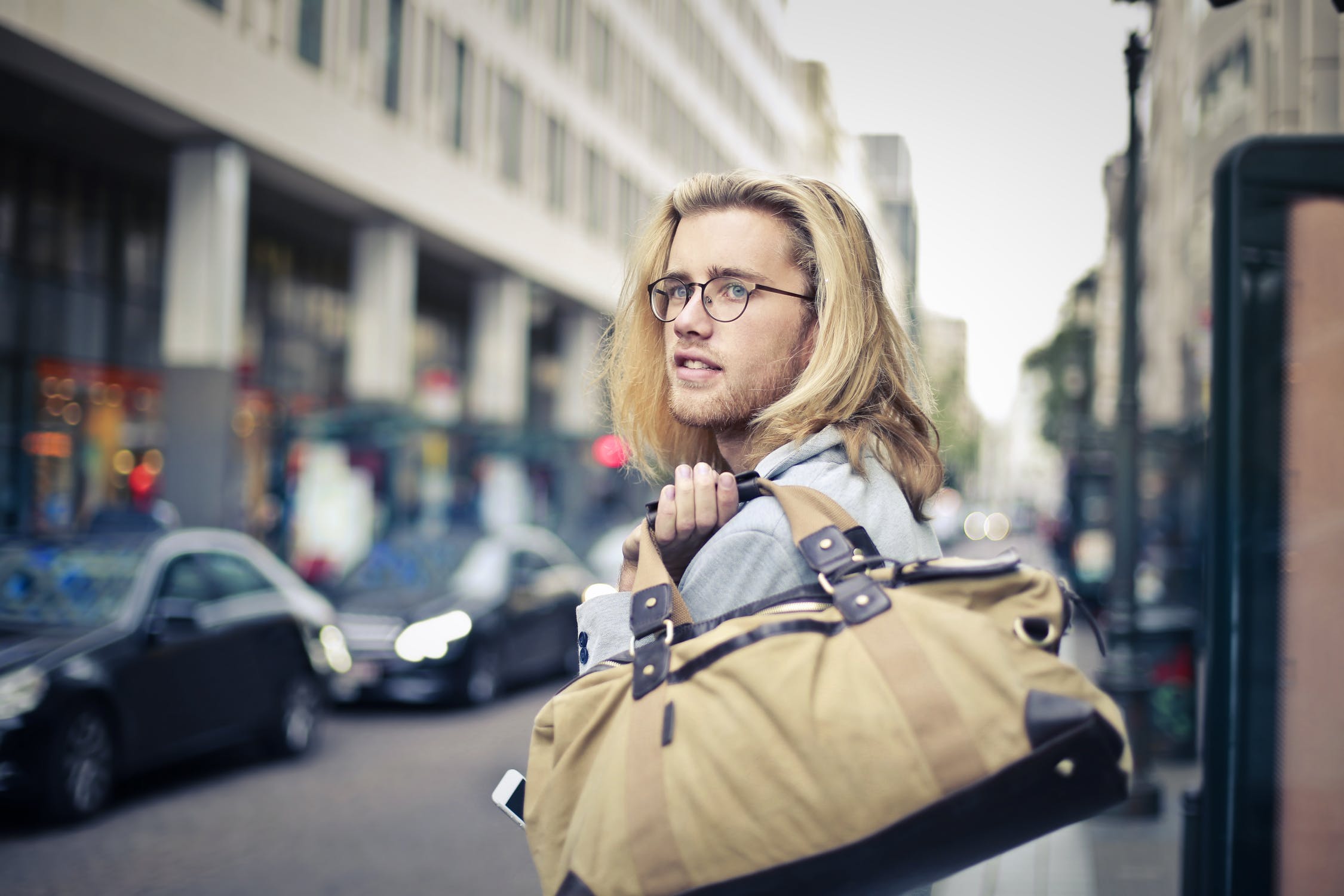 WHICH WAXED CANVAS BAG TO BUY?
As canvas bags & canvas backpacks materials are sturdy, they may have lines where you often bend the material, however, this usually gives it an even better, worn-out look with that extra texture on the bag you are wearing.

Most waxed cotton canvas is very water-resistant, and in most cases waterproof. It may not work as a life vest or a buoy, but it will save your laptop from rain any time!
Our best-selling Canvas Crossbody Bag