Vintage Backpacks and Retro Backpacks
Browse our collection of vintage backpacks & retro backpacks including canvas & leather rucksacks for men and women. Shop a vintage backpack or retro backpack.
What makes a good backpack?
Vintage & Retro Backpacks: Accessories for life
A comfortable and efficient backpack should have a padded back and straps, adjustable hip belt, ample storage, proper weight distribution, and multiple pockets. Look for a backpack that's built to handle heavy loads and made of durable materials.
Ladies and Gentlemen, are you tired of lugging around a drab, utilitarian backpack that offers no flair to your daily routine? Say goodbye to bland and hello to vintage and retro elegance with our collection of backpacks.
But what makes a backpack truly great? It's the perfect combination of form and function. A backpack that not only carries your essentials but also mirrors your personal style. The material, design, versatility, and size are all crucial elements to consider when choosing the perfect backpack.
The material should be of the highest quality, whether it's leather or canvas, and offer both durability and style. The backpack should also be comfortable to wear, with padded straps and a supportive back panel.
A great backpack should be able to adapt to any situation, whether it's commuting to work, exploring the great outdoors, or a simple errand run. And let's not forget about size, you want a backpack with ample compartments to keep your items organized and easily accessible.
So, what are you waiting for? Embrace the vintage and retro style and step out with a backpack that not only serves its purpose but also turns heads. Trust us, you won't regret it.
What are Vintage and Retro Backpacks?
Shop our Vintage or Retro Backpack Collection
Vintage backpacks evoke a sense of nostalgia, showcasing style and design that will dates back at least 20 years or more, while retro backpacks are inspired by a specific era, yet not necessarily from that time. Regardless, both terms embody a classic and timeless allure that's hard to resist.

The enduring popularity of vintage and retro backpacks is a testament to the enduring charm of the past, as more and more people seek to incorporate a touch of yesterday into their daily lives.

Do you yearn for a backpack that stands out, a companion that speaks to your individuality? Look no further, as vintage and retro backpacks offer a charming and captivating solution to the monotony of mundane bags. Travel back in time with a vintage 90s backpack or a 70s backpack.
When it comes to choosing a vintage or retro backpack, quality and style should always be top of mind. After all, you want a backpack that not only holds your essentials but also your memories. The best vintage and retro backpacks are crafted from premium materials, ensuring both longevity and a dashing appearance.

So, what should you consider when selecting your ideal vintage or retro backpack? First and foremost, consider the benefits of owning such a backpack, the diverse range of styles available, and the proper care needed to keep your backpack looking as stunning as the day you got it.
In conclusion, allow yourself to be swept away by the enduring allure of vintage and retro backpacks. Embrace a touch of the past and elevate your everyday carry to new heights.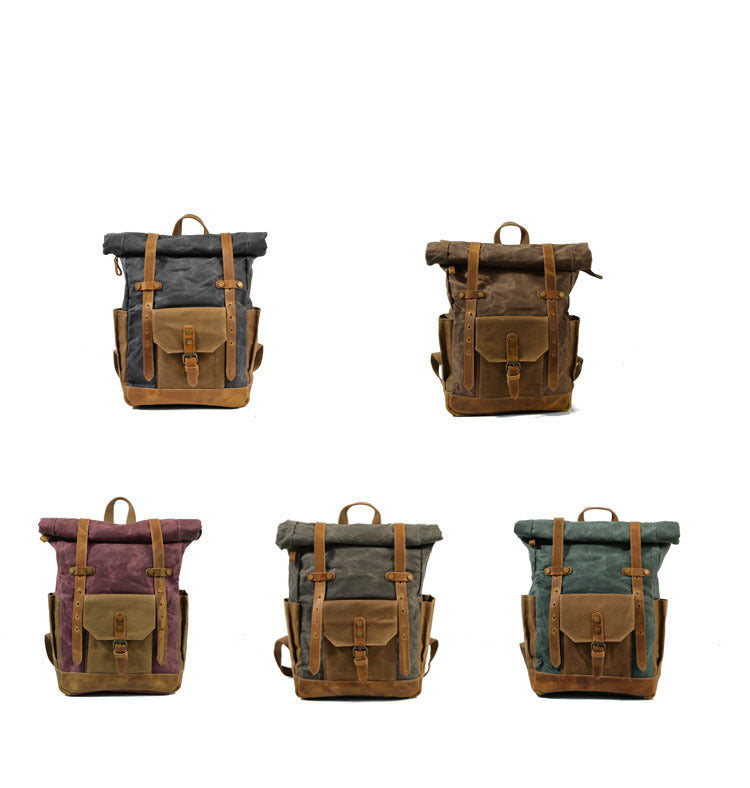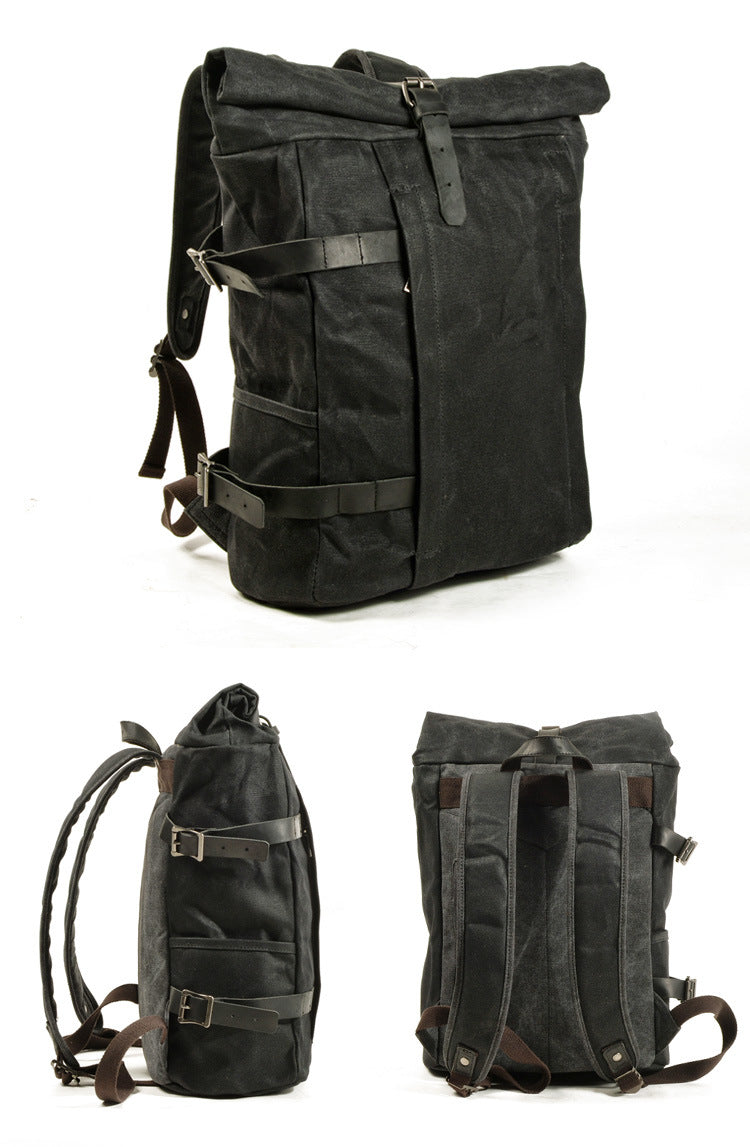 Leather and Canvas - Overview
Materials
For the stylish and practical women out there, having a quality backpack is a must-have accessory. And when it comes to bags and backpacks, nothing beats the everlasting elegance and durability of leather and canvas. In this article, we'll take a closer look at the benefits of antique backpacks, and highlight some real-life situations where each of these materials is especially useful.

Let us talk about bags. Specifically, we'll delve into the everlasting beauty and practicality of two classic materials for backpacks - canvas and leather.

First, let's discuss canvas. This fabric has been around for centuries, used for everything from sails on ships to tents on camping trips. Canvas is durable and tough, yet lightweight, making it the perfect solution for backpacks that can handle the wear and tear of daily life. The natural canvas fibers are woven together in a way that makes it both water-resistant and breathable, so you won't have to worry about your belongings getting wet or your back getting too sweaty. And because canvas is such a versatile material, you can find old classic backpacks in a variety of colors, styles, and designs.

Next, we have leather. Leather is the epitome of sophistication and elegance, and has been a sought-after material for bags for generations. Leather backpacks are made from high-quality hides that are treated to be both water-resistant and soft to the touch. Also, because leather is a natural material, it only gets better with age. Leather bags will last you a lifetime, growing softer and developing a patina over time that adds character and charm. Whether you're headed to the office or out on a weekend hike, a leather backpack is the perfect accessory for women to complete any outfit.

So, which material is right for you? If you're looking for a rugged, utilitarian backpack for outdoor adventures, you might opt for a canvas backpack. But if you're in need of a sophisticated accessory for the office, one of our leather bags might be the way to go.

In the end, the choice is yours. Whether you opt for a a classic waxed backpack or a stylish leather backpack, you can't go wrong. Both materials are durable, and practical, and offer unique benefits that make them perfect for a wide range of situations. So go ahead and treat yourself to a vintage or retro backpack at Gentcreate that you'll enjoy for years to come!
Sustainable Materials Vintage Backpacks
Nature Inspired CANVAS BACKPACKS & CANVAS RUCKSACKS
Our collections are carefully designed to offer you a large assortment of backpacks and bags for gentlemen, men, and women.

Gentcreate is a London-based company, which has been in business since 2020 and specializes in men's accessories, retro bags and vintage backpacks, and clothing.

We are on a mission to provide you with only the highest quality materials, modern designs and to raise your styling to a higher level. Just name it and we have it all.

Below you can see only some of the combinations that we highlight from our collection. Each of our products is made from premium materials and most of them are water-resistant and waterproof.

You don't have to worry about water and natural circumstances that you can face on your adventures with your new backpack from our collection.

We took care of it with waxed canvas materials in combination with leather materials.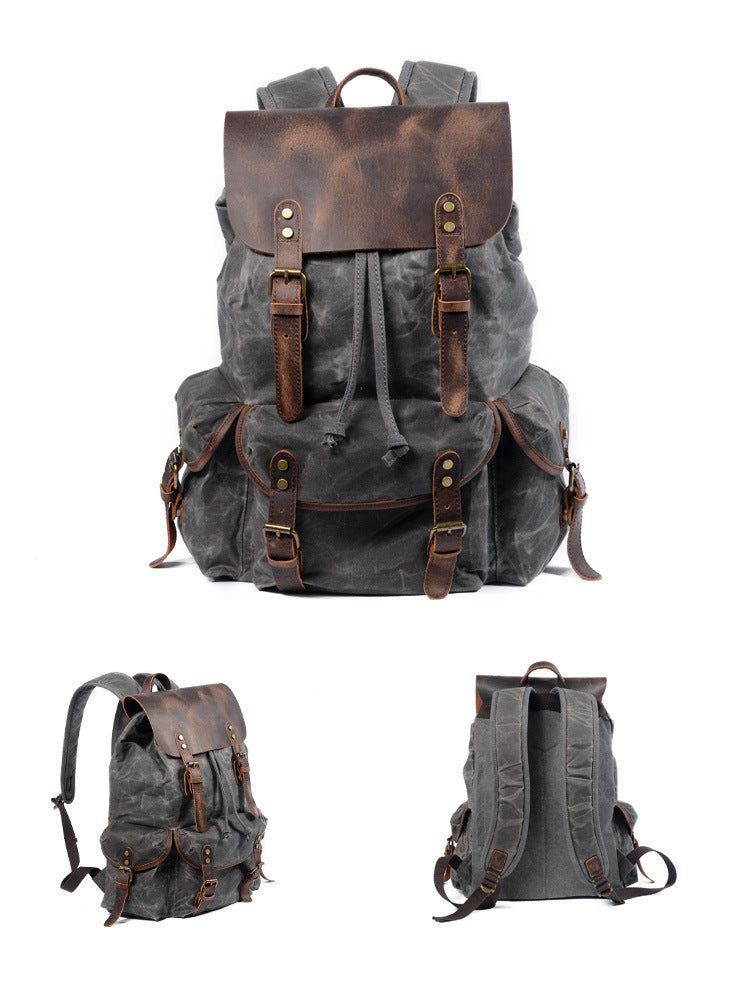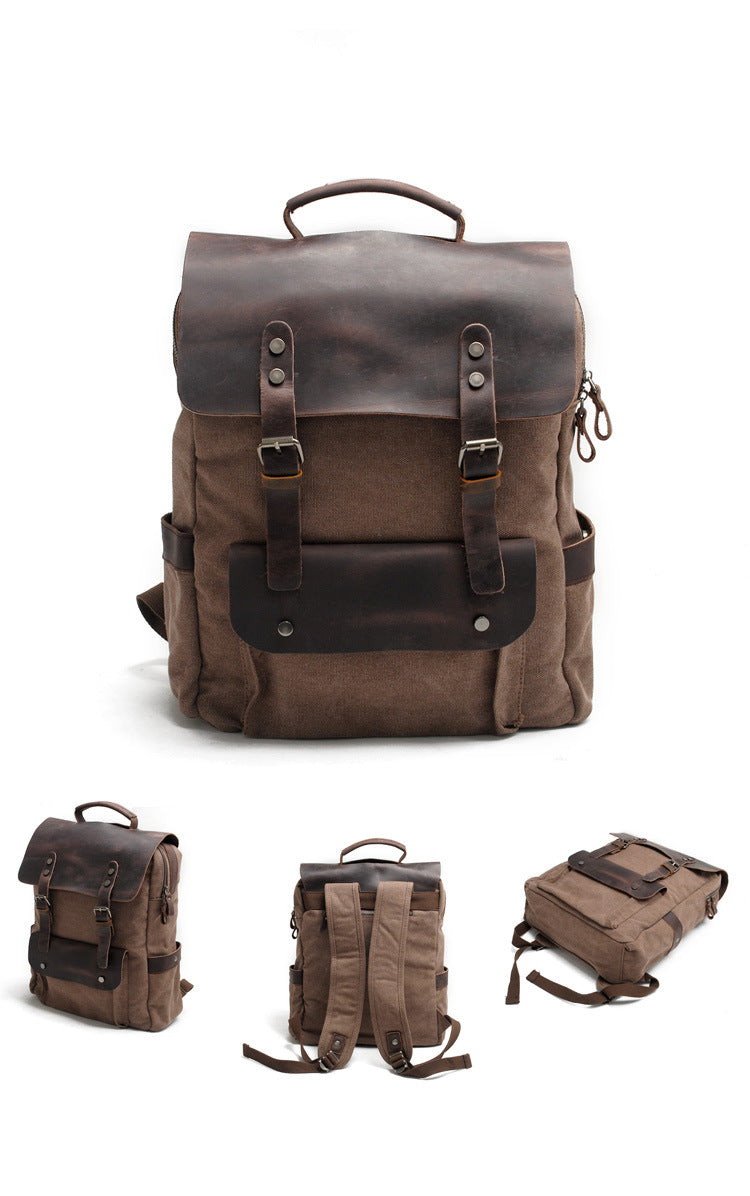 A Backpack and Travel Bag Collection for Men and Women
Unisex Rucksack Reinvented
Say goodbye to bland and boring rucksacks and bags and hello to the reinvented vintage and retro backpacks at Gentcreate. Our collection is designed for both men and women who value both style and purpose. Our backpacks and bags come with multiple pockets, offering ample storage space for all your essentials, making them the perfect travel bag or shoulder bag for daily use.
Whether you're looking for a vintage backpack men's or a women's backpack, we've got you covered. Our carefully selected collection offers multifunctional items, with backpacks designed to suit a variety of purposes, from commuting to traveling. You'll love the mix of vintage charm and modern look in each and every one of our backpacks.
High-Quality Vintage or Retro Backpack for Everyone
Superior Quality and Sustainability
At Gentcreate, we believe in providing our customers with high-quality vintage or retro backpacks that not only last for a long time but are also sustainable. Our backpacks are made from materials such as vintage canvas and leather, which not only give them an original look but also ensure their durability. With a wide selection of hand-made and eco-friendly materials, you are bound to come across a product that is a perfect match for you.
With a focus on sustainability and timeless style, our vintage backpacks are perfect for anyone looking to make a statement while they travel. An evergreen vintage backpack will undoubtedly add context and a fresh note to your everyday routine.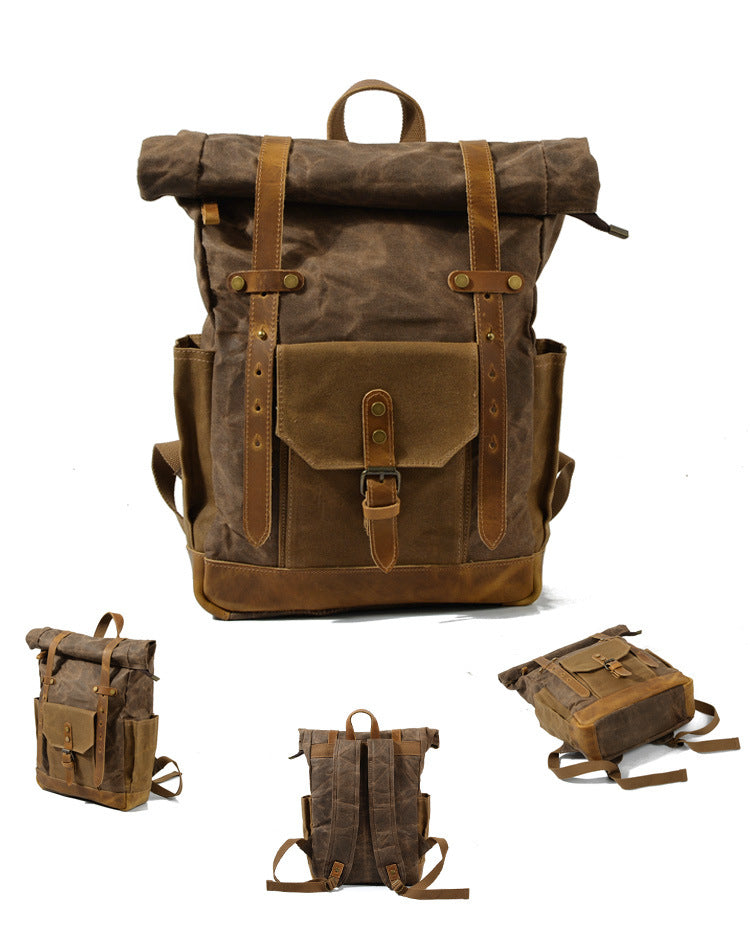 Travel Safe and in Style with a Vintage Backpack
Protection and Practicality
A vintage backpack is the perfect combination of protection, practicality, and style so we've created a collection of vintage backpacks that embody all of these features. Our backpacks are designed to keep your essentials safe and secure, while also providing bountiful storage space to keep everything organized. With a vintage backpack from Gentcreate, you can rest assured that your belongings are protected, while also making a statement about your style.
Made of durable waxed canvas cotton cloth, these backpacks not only offer a stylish touch to any outfit, but they are also waterproof, ensuring your belongings stay dry in any weather. Perfect for outdoor adventures, daily commutes, or even a weekend getaway, our backpacks offer abundant storage for all your essentials, while their sturdy construction promises longevity. Upgrade your accessory game and invest in a vintage-inspired backpack that combines both style and function.
How to preserve your backpack?
Vintage and Retro Backpack – Care and Maintenance
Maximize the life of your vintage and retro backpack with proper care and maintenance. Our waxed canvas backpacks are designed to withstand daily wear and tear, but with a few helpful tips, you can preserve their vintage look and functionality:
Store it in a cool, dry place when not in use
Use a fabric protectant spray to repel water and dirt
Avoid overloading the backpack, as this can cause the leather straps and seams to stretch and tear
If the backpack gets wet, let it air dry rather than using a heater or hair dryer
Use a leather conditioner to maintain the suppleness of leather accents or trims
Avoid harsh chemicals or cleaning products that could damage the fabric or hardware
Protect the hardware with wax or oil will ensure your backpack remains in top condition
Avoid prolonged exposure to sunlight and heat
Clean the backpack with a damp cloth on a regular basis
By following these simple guidelines you will ensure that your bags or backpack stays with you for all of life's adventures.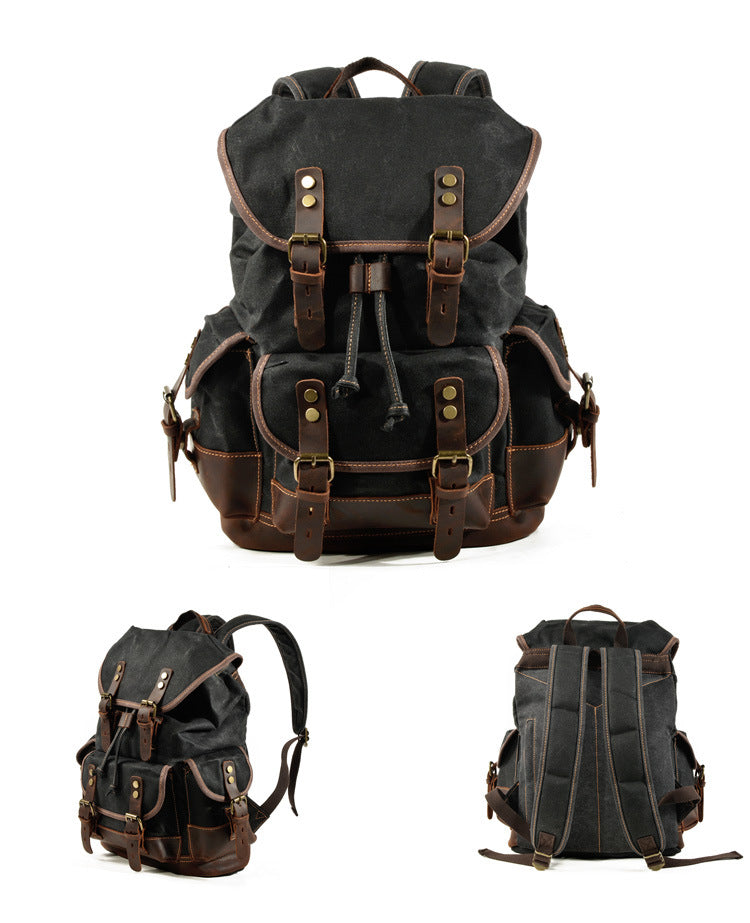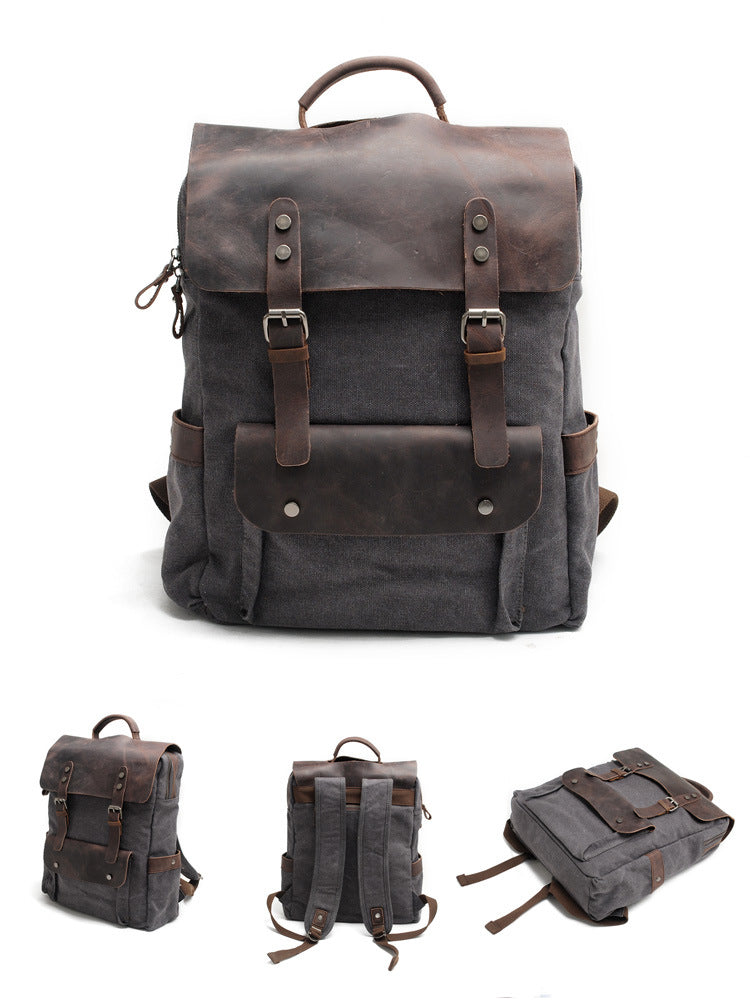 Design Meets Function
Why Our Vintage Rucksacks Collection Stands Out?
This unique collection showcases the timeless charm of vintage design, paired with modern benefits to meet all your daily needs. Our backpacks are made of durable, long-lasting materials, reducing waste compared to fast-fashion options and making them an eco-friendly choice. With a number of different pockets and compartments, each backpack is designed to keep you organized on-the-go. 
Here are some of the factors that make our backpacks stand out:
Perfect for outdoor adventures, daily commutes, or even a weekend getaway
Multiple pockets and compartments for organized storage
Durable construction ensures longevity
Each vintage and retro backpack is one-of-a-kind, adding a touch of individuality to personal flair
Distinctive designs carefully tailored to meet all kinds of needs – if you are looking for vintage backpacks for school, a backpack for your laptop, or you need a more specific model for your adventurous spirit – Gentcreate has it all
Eco-friendly: made of durable, long-lasting materials and reducing waste compared to fast-fashion backpacks
Available in a range of colors: Brown, Military Green, Gray, Black, Lake Green, and Khaki
Rich selection: great attention to detail and various models such as voyage bag, over-the-shoulder bag, leather backpack, backpacks travel backpacks canvas, bags canvas, and more bags backpacks
Waterproof and water-resistant models that ensure the safety of mind when it comes to protecting your personal belongings
Adjustable shoulder straps for a comfortable fit
Price: Gentcreate is proud of our quality/cost ratio. Whether you're purchasing in eur or usd it doesn't matter as the price of each product and the discounts we offer will surely get you your money's worth
Multifunctional backpacks and Bags
WATER-RESISTANT AND WATERPROOF BACKPACKS BY GENTCREATE
When it comes to choosing a backpack, water resistance is an important consideration. After all, the last thing you want is for your belongings to get wet in the rain or on a spontaneous outdoor adventure thus we have carefully considered creating water-resistant retro backpacks and vintage backpacks at GENTCREATE. Our vintage rucksacks and retro haversacks are not only chic and retro but also equipped with the latest contemporary waterproof and water-resistant features.

All vintage backpacks and waxed canvas bags have space for different sizes of laptops, padded compartments, side pockets, front pockets, and a dedicated shoe compartment.
Our backpack design and their shoulder straps have high density and they can last for years and years of use.

Our vast men's backpack array contains colors like black canvas backpack designs, black leather backpack designs, green canvas backpack models, motorcycle vintage bag designs, and additional collections that cover specific purpose backpacks like a large retro backpacks for school, waterproof vintage backpacks, and cotton old-school backpack models.

All materials that go into our men's backpack and women's backpack models are sourced with sustainability in mind, without any detrimental effect to nature!

Some of the highlights leading to the popularity of our men's backpack & women's backpack collections are that our backpacks are rainproof, whilst using materials that make our backpacks bio-degradable, whilst using sustainable leather to stitch our bags & backpacks together.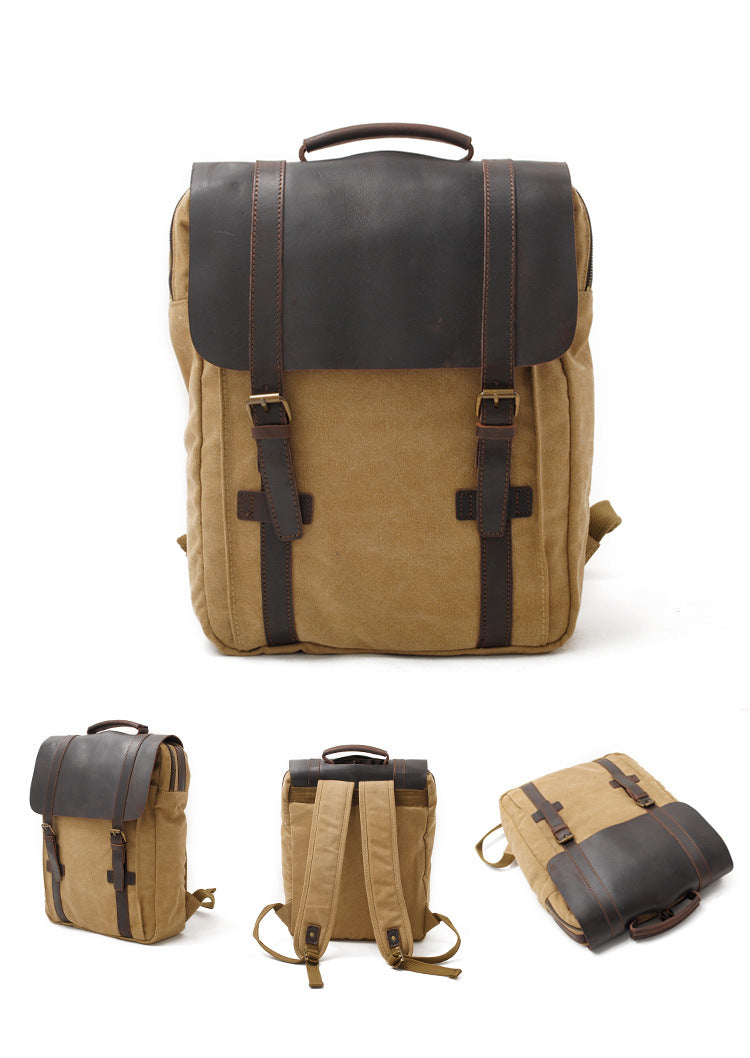 Retro backpacks & Vintage BAgs
OUR CANVAS BACKPACKS & VINTAGE BAGS
Focus on giving you that retro look for all you gentlemen striving for stylish looks for the 1930s, 1940s, 1950s, 1960s, 1970s,1980s, 1990s, 2000s, and modern bag & backpack models!

All-in-all the process of shopping any type of bag all the way to a specific cross body camera bag or backpack has never been this easy!

A single click separates you from your bushcraft backpack allowing you to hike into the wild or a vintage leather backpack perfect for the urban environment!

We wanted our travel backpack bags to be trendy, unisex, ageless, and, above all, colorful!

Why not be inspired by nature, which is a fantastic source of motivation? Colors, forms, smells, shapes all helped us to design our products. 

Of course, we wanted to keep a vintage, retro, and classic vibe, but this will provide you with a distinct and remarkable sophistication, whether in town or barefoot in a rice field.

In an urban metropolis, you will feel that you have made the right choice with buying one of our vintage canvas backpacks or a waxed canvas duffle bag from our premium collection.
Where to buy backpacks?
- You are in the right place!
We have a large collection all the way from retro leather backpacks for school to high capacity canvas backpacks for hiking, and everything inbetween!
What kind of backpack to choose: The backpack should be durable, because it will be used in different situations. It should also be attractive, so that it will be pleasant to carry. The backpack should be comfortable, so that it will not be difficult to carry it.

The backpack should not be too big, because the more space is left in it, the more it will be difficult to carry it. The backpack should be of high quality, because it is one of the most important things in your life.