Alcantara Phone Cases: The Best Alcantara iPhone Cases and Accessories
We made the best Alcantara Phone Case ever for iPhone, Samsung and other devices. Browse our collection of luxurious Alcantara phone cases and make your pick!
Learn more about our Alcantara Phone Cases
Alcantara Phone Cases
As the world becomes more and more digital, our phone cases must make a statement. Luxury phone cases are the perfect way to show off your style and personality, and Alcantara Phone Cases from us at Gentcreate are the perfect way to do just that. Alcantara is a unique material that is both stylish and luxurious, and our phone cases are designed to show off your unique style.
Whether you are looking for a case for your iPhone or Samsung phone, we have a case that will fit your needs. Our cases are designed with both men and women in mind, and we have a variety of colors and styles to choose from.
Alcantara Phone Cases: Alcantara or Alcantara suede is an amazing sustainable, cruelty-free, eco-friendly, and vegan-friendly material most often used in the automotive and fashion industry. Alcantara is made from 70% polyester and 30% polyurethane and has a unique feel, look, and smell. Alcantara is very durable, soft, flexible, and has a great grip. That being said, Alcantara feels very gritty and soft on touch at the same time, meaning you will not have an issue where your phone slips out of your hand and breaks. These are just some of the perks our Alcantara phone cases have, but in order to experience the true quality & feel of owning this amazing case, you'll have to order one from us at Gentcreate.
So, if you are in the market for a new phone case and are looking for something unique and luxurious, look no further than our specialized phone cases! We have created the best cases using the best material: Alcantara. Let us introduce you to our luxury accessories for your iPhone or Samsung Galaxy or any other flagship mobile device you may have. Made from premium Italian Alcantara material, our cases offer a unique combination of luxury, durability, and style. The soft suede-like microfiber weave of Alcantara provides a comfortable grip and the cases are designed to perfectly fit your device.
Our menu of Alcantara phone cases offers a wide range of options for all iPhone models, including the new mini iPhone and the popular pro case. Whether you're looking for a sleek, slim ultra galaxy case or a protective pro case, we have options to fit all your needs. With precise cutouts for easy access to all buttons and ports, our cases are designed to perfectly fit your device.
And with free shipping and easy returns, it's never been easier to find the perfect case for you. Plus, don't miss out on our regular price offers and view quick our menu for more options. Shipping add-ons are also available for purchases in USD Alcantara cases from our seller. Elevate your tech accessories game with the addition of an Alcantara iPhone Case from GENTCREATE.
Alcantara phone cases are the epitome of luxury and style. These cases are indeed a unique combination of durability and luxury. The soft, suede-like microfiber pile ( weave ) of Alcantara material provides a soft feel but a certain amount of grittiness as well, so if you are accustomed to leaving your phone on a slippery surface you'll be safe with an Alcantara case.
Our collection of Alcantara phone cases includes options for the latest iPhone models, including the iPhone 14, iPhone 14 Pro, iPhone 14 Plus, and the iPhone 14 Pro Max.
In addition to our phone cases, we also offer airpods cases, pro iphone cases, max iphone cases, and airpods pro cases, all made from premium Italian Alcantara material. Our collection includes a variety of colors, including classic black alcantara, as well as a range of other hues.
We are proud to offer our Alcantara phone cases at an original price, and we are constantly updating our collection to include new and exciting options, such as ultra galaxy cases and galaxy note cases. We also offer free shipping and easy returns, making it easy for you to find the perfect alcantara case for your phone or tech accessories. Browse our collection and find the perfect alcantara case for you today.
Origins of Alcantara Material & Its Use in Mobile Accessories
How was Alcantara Material made?
The innovative material known as Alcantara was created in the early 1970s by the renowned scientist Miyoshi Okamoto, who was employed by the leading Japanese chemical firm Toray Industries at the time of its development.
Ever since its development, Alcantara was used often in the luxury automotive & consumer electronics industries - such as fashion tech accessories. It is known for its soft, suede-like microfibre pile and exceptional durability. It is also resistant to stains, and wear and tear, making it a great choice for phone cases.
Alcantara is a high-performance synthetic material. Alcantara has a similar appearance and tactile feel to suede, which may lead to confusion.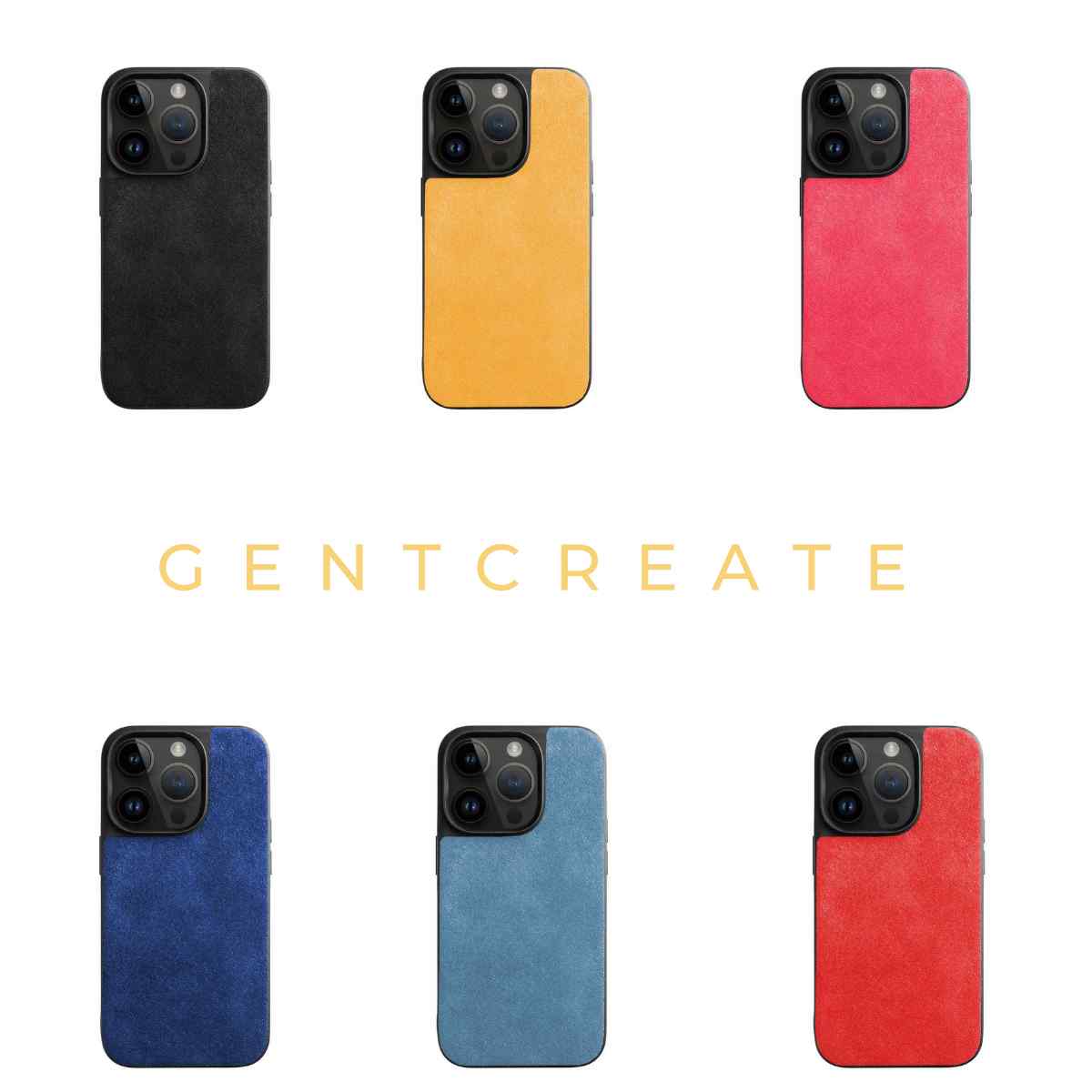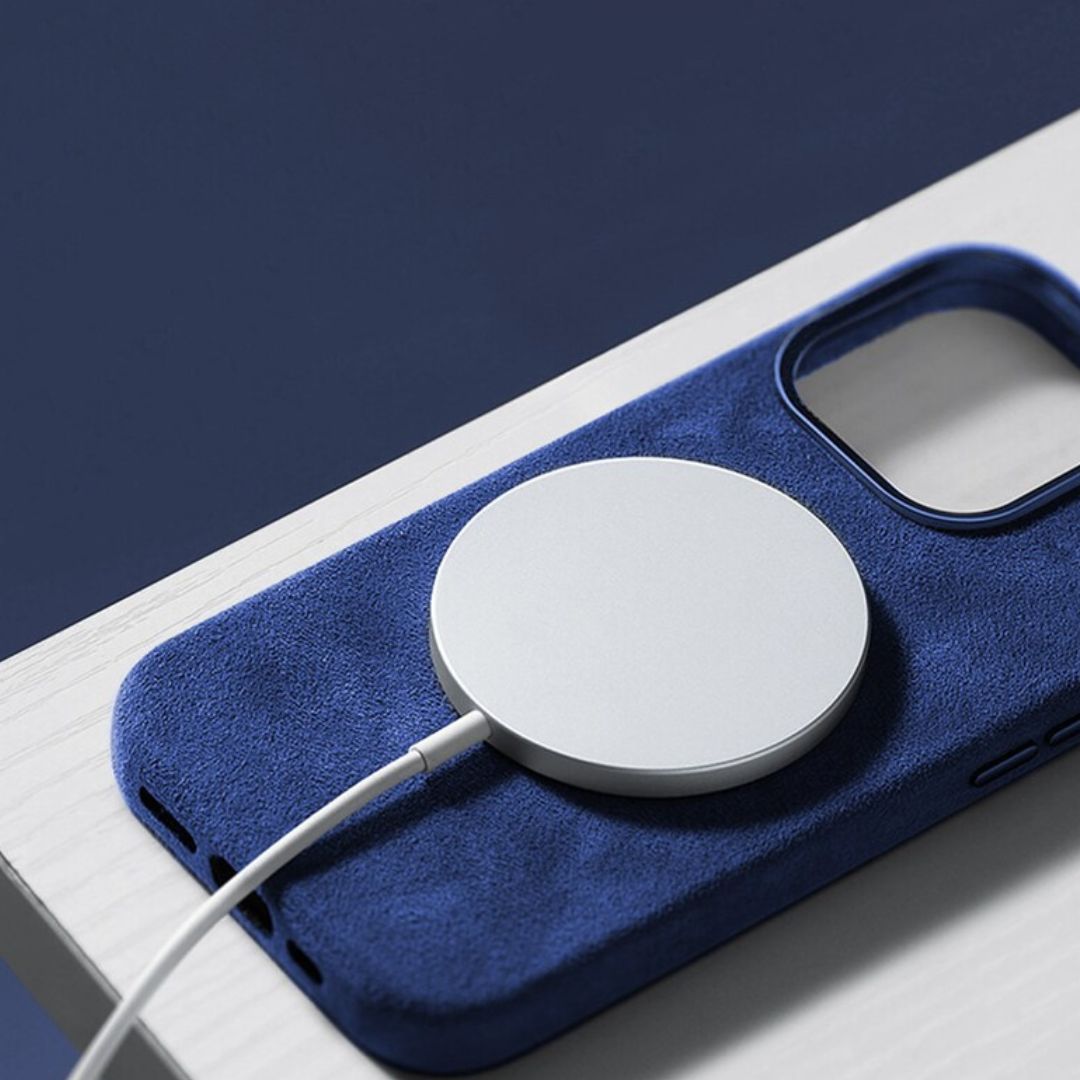 Alcantara, Leather, Suede & Vegan Leather Phone cases
Introduction to Alcantara Phone Cases
Nowadays, phones are in our hands most of the time, and why not have a premium phone case such as our soft Alcantara Phone Case?
Softer than a cloud, Alcantara Phone Cases are made for the gentlemen and gentlewomen that just love to enjoy the little details life has to offer, no matter how small, having something soft to touch at all times can have great effect to your mood & style.
Are Alcantara cases good?
Reasons To Buy an Alcantara Case
DROP PROTECTION: Medium - Provides medium protection for your phone without adding bulk
SOFT FEEL: Ultra Soft - Made of premium Italian Alcantara for a luxurious feel
DURABILITY: Excellent - Durable and resistant to stains, scratches, and wear and tear
GRIP: Strong - Soft, suede-like microfibre pile for a comfortable grip
COLORS: Multiple - Available in a variety of colors to match your personal style
DESIGN: Precise - Precise cutouts for easy access to all buttons and ports
THICKNESS: Ultra Slim - ultra-slim cases, or protective pro cases are available
COMPATIBILITY: All iPhone models, All Samsung Mobile Phones, Flagship Pixel Devices - Compatible with a variety of Apple iPhone devices, Google Pixels and Samsung Galaxy models.
ECO-FRIENDLY: Yes - Eco-friendly and sustainable alternative to traditional phone cases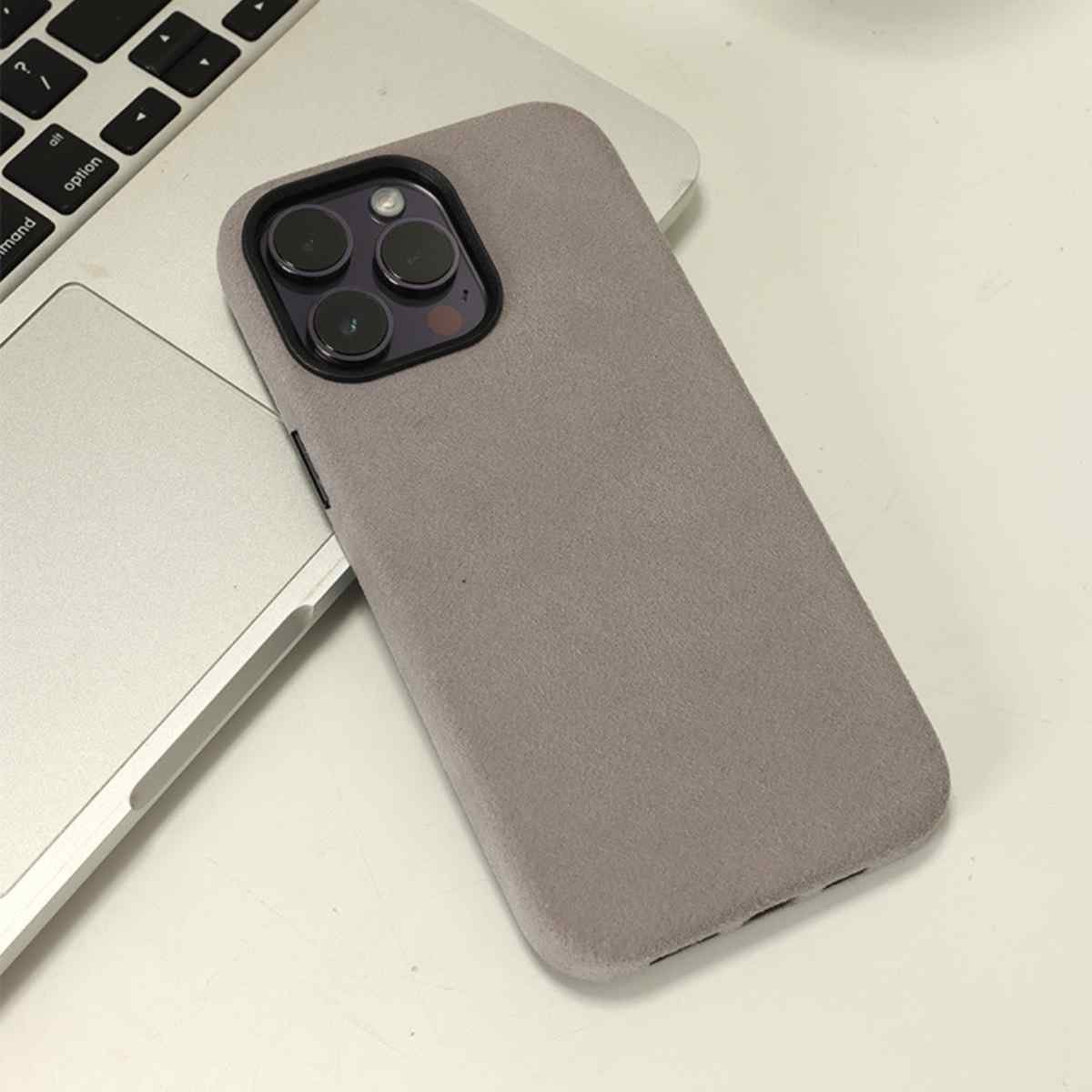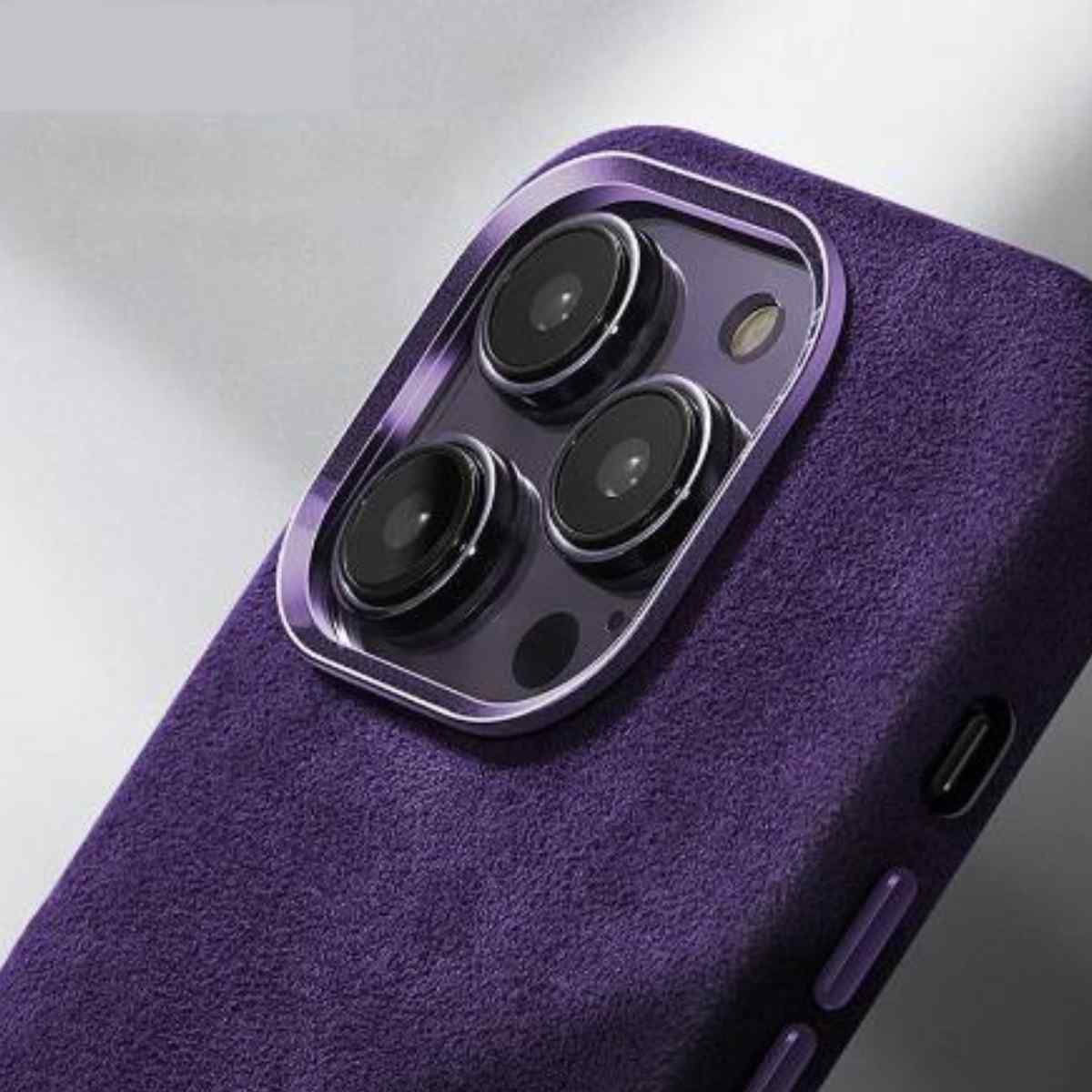 Stand Out with Unique Designs and Colors
Why Alcantara phone cases?
When it comes to protecting your most valuable possession, your phone, there is nothing quite as perfect as an Alcantara phone case cover. Made of premium Italian Alcantara material, these cases offer a unique combination of luxury, durability, and style. The case you didn't know you needed just became your favorite case for everyday.
Our Best alcantara iphone case
Which Phone Case is Best for Me?
Picking your new favorite phone case:
▪ By color, it should match your general color preference, try to match it with an accessory or item such as your scarf or hat, as most of the time you keep your phone close to your torso or face.
▪ By material, make sure the material of the phone case you pick at Gentcreate fits your love for that material. If you aren't that much of a Alcantara fan, try a leather phone case which we have within our luxury phone case collection.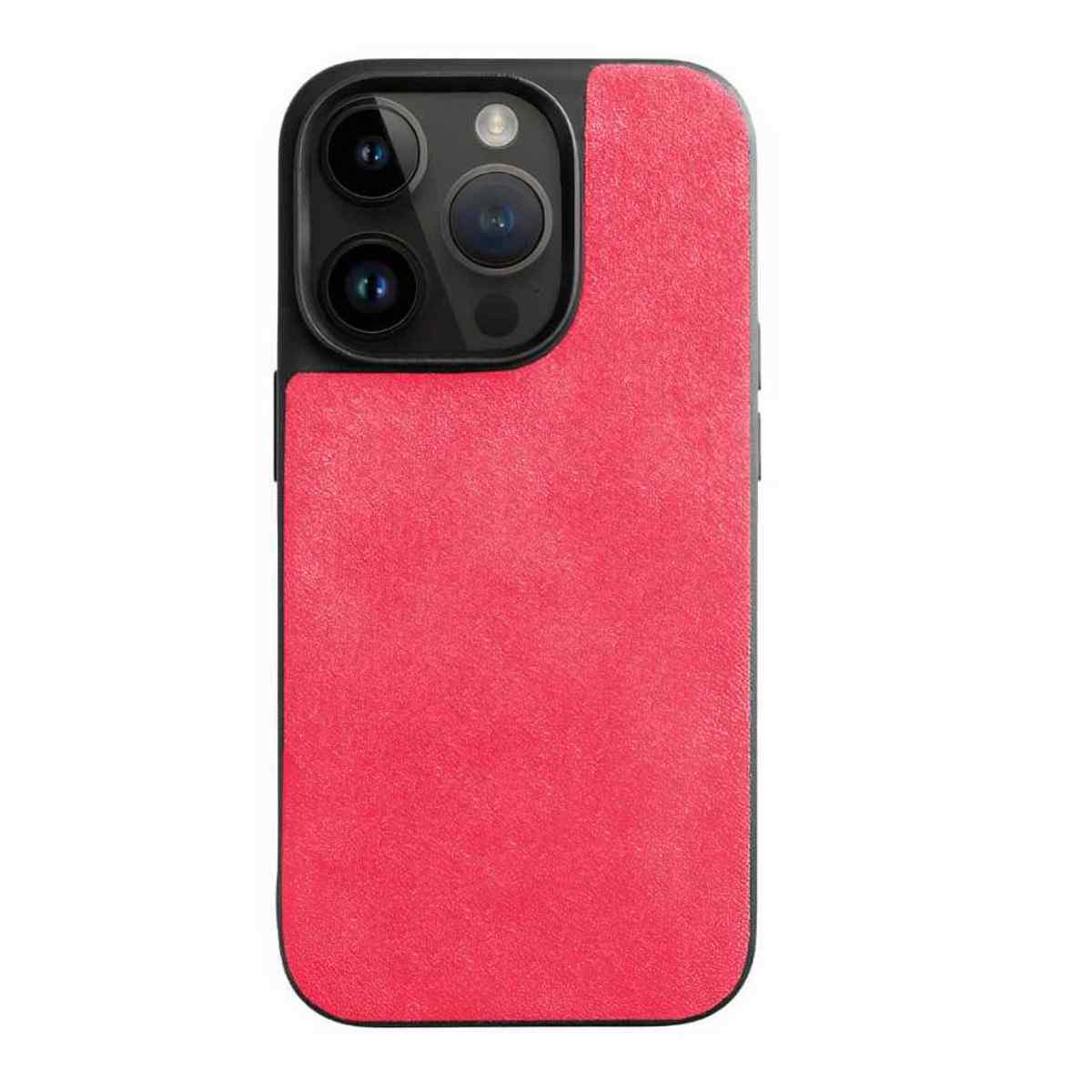 Addition to Your Apple Watch & AirPods cases
Alcantara iPhone Case Menu
Upgrade your tech accessory collection with our luxurious Alcantara iPhone Cases, now available on our menu. Crafted from premium Italian Alcantara material, these cases boast a one-of-a-kind blend of luxury, durability, and style. The soft, suede-like microfiber weave of Alcantara not only feels great in your hand, but it also offers a perfect fit for your Apple Watch and AirPods. Choose from an array of colors in our Alcantara iPhone Case menu to find the perfect match for your personal style. Complete your prestige fashion look with our bundle of Alcantara accessories.
Protection Meets Style for All Models: Special edition Mini iPhone Cases and Every Pro Case Included
Case Device Models
Our wide range of phone cases are compatible with a variety of popular phone models including:
iPhones: the latest iPhone 14, 14 Pro, 14 Plus, 14 Pro Max, as well as older models such as the iPhone 13, 13 Pro, 13 Pro Max, 13 mini, 12 Pro, 12, 12 Pro Max, 12 Mini, 11 Pro Max, 11 Pro, 11, XS, XS Max, XR, SE (2020), 8, 8 Plus, 7, 7 Plus, 6/6s, 6/6s Plus, 5/5s/SE.
Samsung: We also offer compatibility for Samsung Galaxy models including the S22, S22 Plus, S22 Ultra, A52/A52s 5G, S21, S21 Plus, S21 Ultra, S20, S20 Plus, S20 Ultra, S10, S10+, S10e, S9, S9+, S8, S8+.
Google Pixel: Google Pixel 6 and 7. Upgrade the protection of your device with our wide range of options.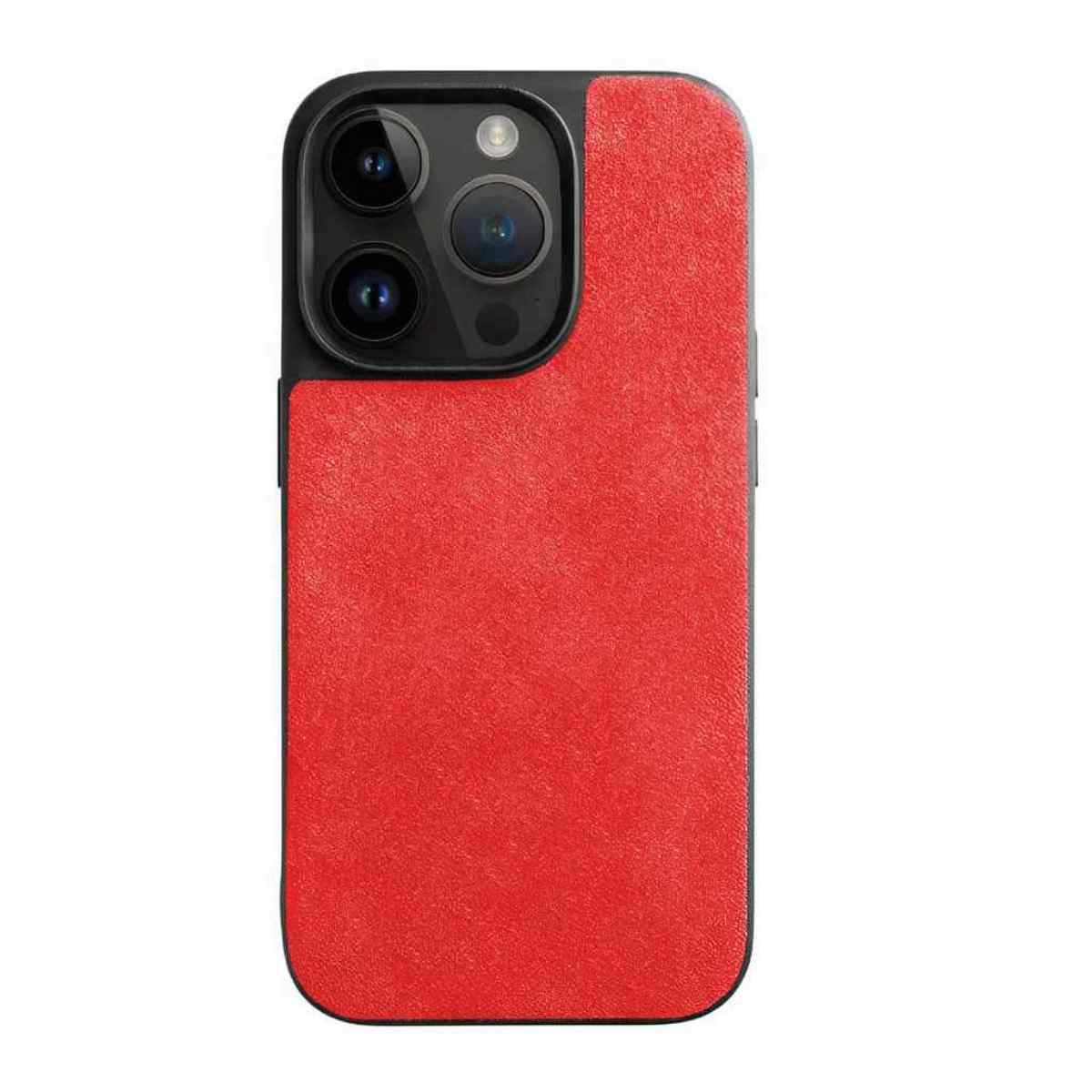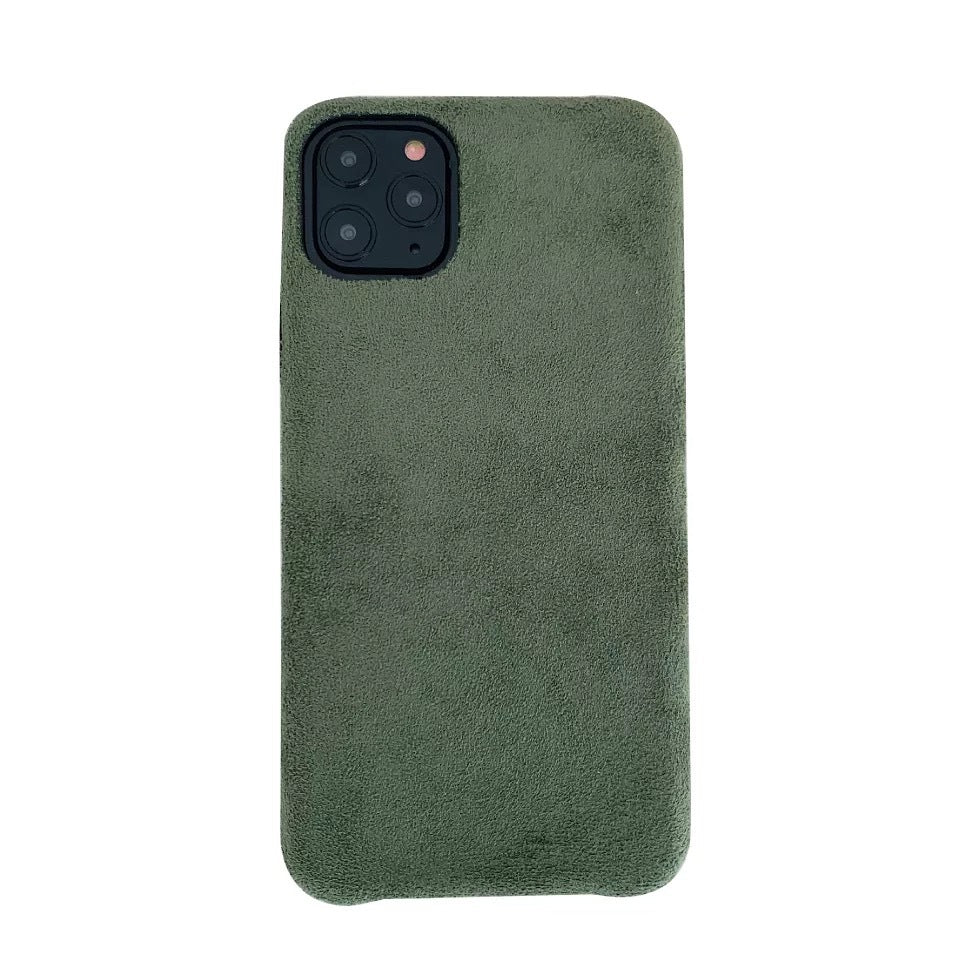 Sustainable Material, & World Wide Shipping
Green, Black, Blue & Brown Phone Cases
Our collection of phone cases is based upon the Gentcreate love towards sustainability and inspiration drawn from nature and its elements.
Within our suede alcantara case collection, along with luxury phone cases, you'll also find them to be in various colors that are able to fit any style, color scheme of your outfit or fashion sense.
The Best Location to Order Alcantara Accessories & Alcantara Products
Luxury Phone Cases for Men & Women
At Gentcreate, you'll find that most products are created for the modern Gentleman, however, ladies as of the inception of Gentcreate have loved the designs sold here, and as a result, we've often received complaints whereas the ladies have "borrowed" the product their man has ordered for himself.
This has motivated us to create our phone cases in a design and color scheme which is unisex.
Hopefully, this way we have our Gent community supported, but ladies, by all means pick your new favorite phone mask in all colors & materials!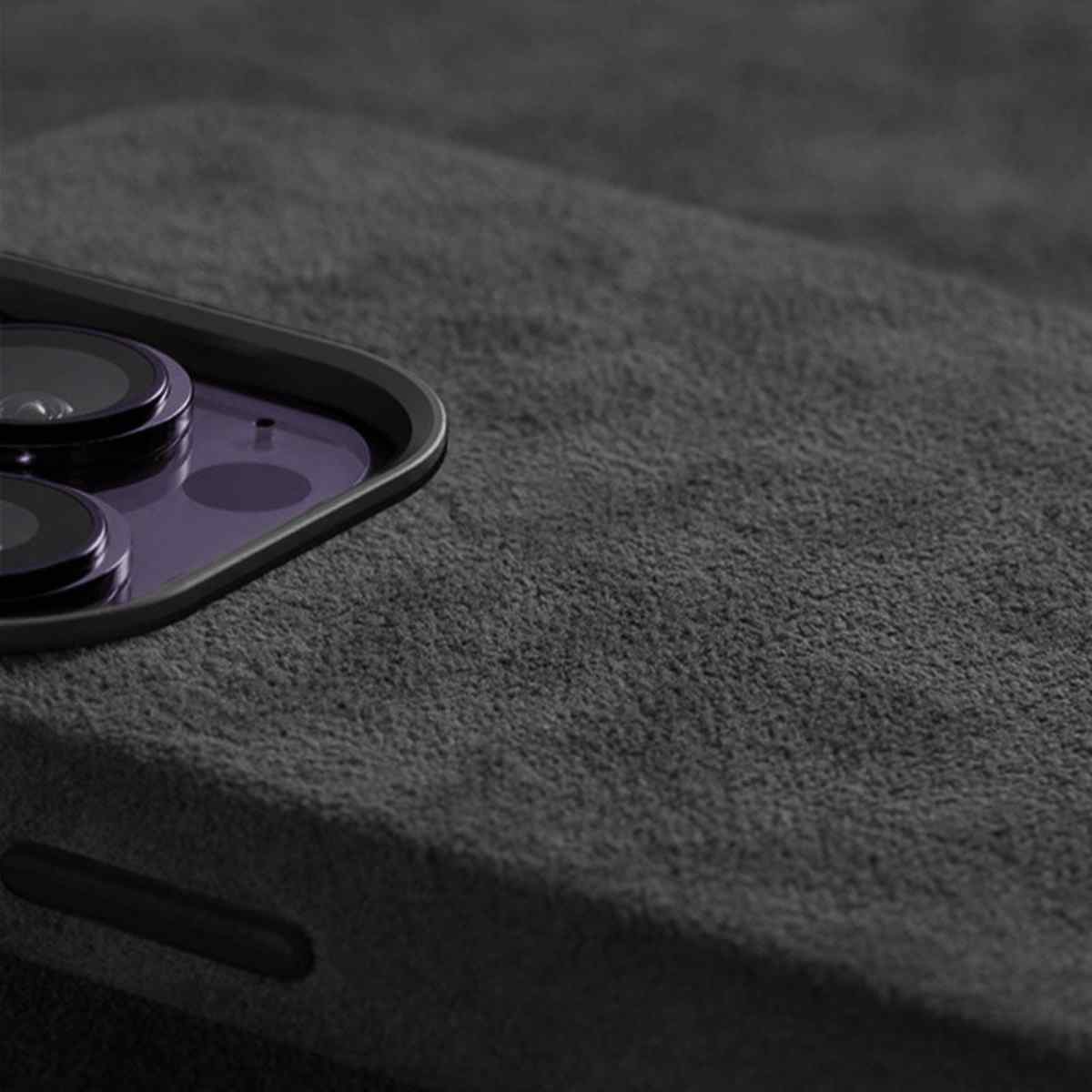 Alcantara cleaning Tips & Tricks
How do I clean my Alcantara case?
Caring for your Alcantara phone case is essential to preserving its luxurious microsuede-like texture. However, it is quite susceptible to staining due to its fibers being able to hold liquid and discoloration if not properly cared for. Here are our Alcantara expert cleaning tips for keeping your Alcantara phone case aesthetic looking like new:
Follow these cleaning tips to keep your Alcantara phone case looking as good as new:
Remove dirt and debris with a soft-bristled brush. Gently brush the surface of the case, focusing on any areas that have become discolored or stained. This will loosen any dirt or debris embedded in the fibers.
Blot stains with a damp cloth. If your case has any stains, use a damp cloth to gently blot the area. Avoid rubbing the stain as it can cause the fibers to become matted and discolored.
Clean with a mild detergent. Mix a small number of mild detergents, such as dish soap, with warm water. Dip a soft cloth into the solution and wring it out so it is damp, not soaking wet. Gently wipe the case with a damp cloth, being careful not to saturate the fibers with water.
Rinse with water. Use a clean, damp cloth to gently wipe the case down with water to remove any remaining soap residue. Be sure to wring out the cloth well so the case is only damp and not soaking wet.
Allow airing dry. Do not put the case in the dryer or use a hairdryer to dry it. Instead, lay the case flat and allow it to air dry completely.
Repeat as needed. Depending on how often you use your phone, you may need to clean your case every few weeks or a few times per year.
It's important to note that not all Alcantara cases are created equal, so always check the care instructions that came with your case. Some Alcantara cases may require special cleaning solutions or techniques. Additionally, always test a small, inconspicuous area of your case before cleaning the entire surface to ensure the solution and technique you've chosen won't damage the material. Also, if you bought a case as a gift, when not in use, store it in its original packaging.
Finest Material for Apple Products
What is the most stylish phone case?
When it comes to phone cases, the most stylish option is a custom-designed one. Being able to personalize the cover to your own taste and preferences sets it apart from the rest. A case that reflects your unique style, interests or even a location that holds special meaning to you is sure to be a conversation starter. And let's face it, who doesn't love a little extra attention for their phone's first protective cover? A custom case is the perfect way to add a touch of individuality to your device and make it truly stand out.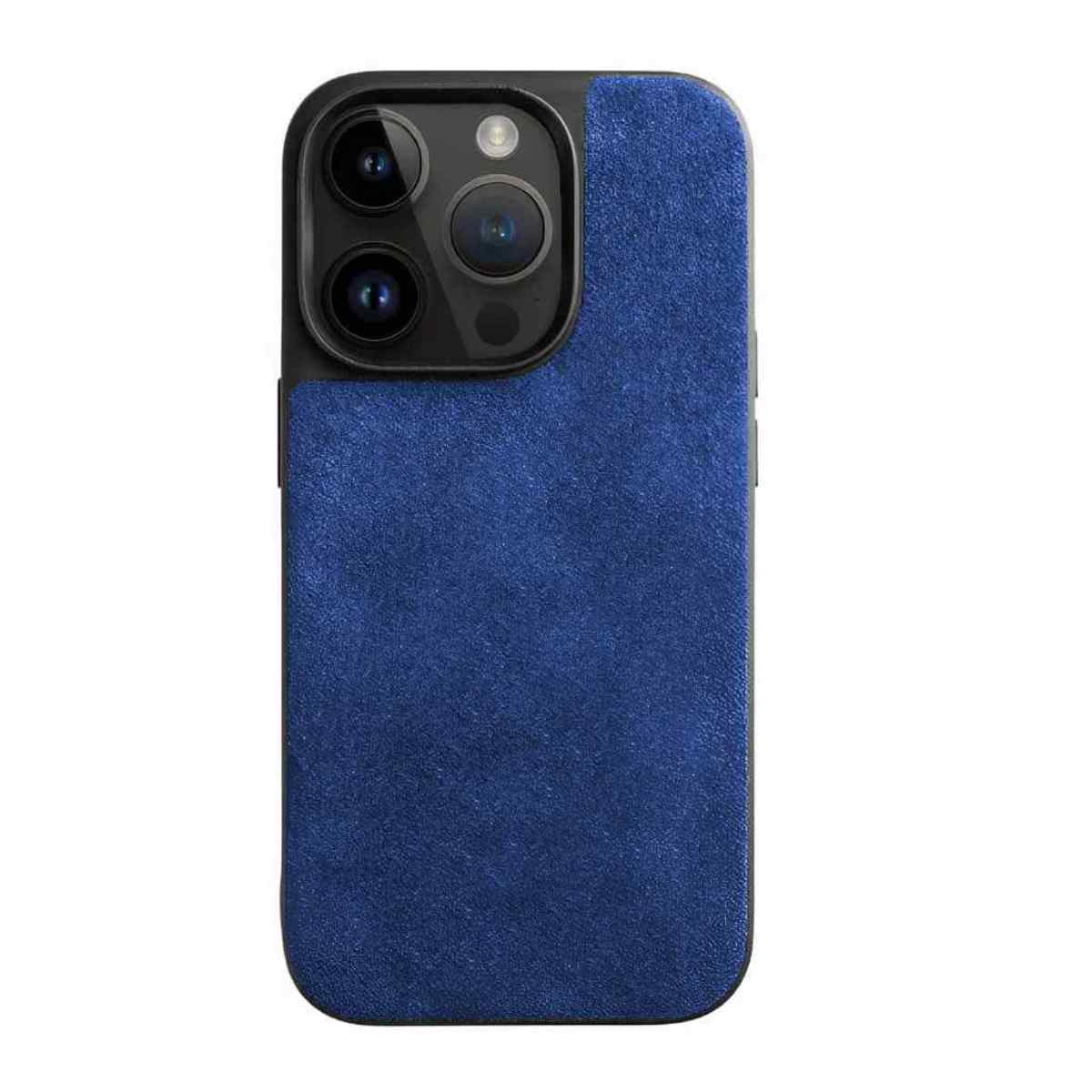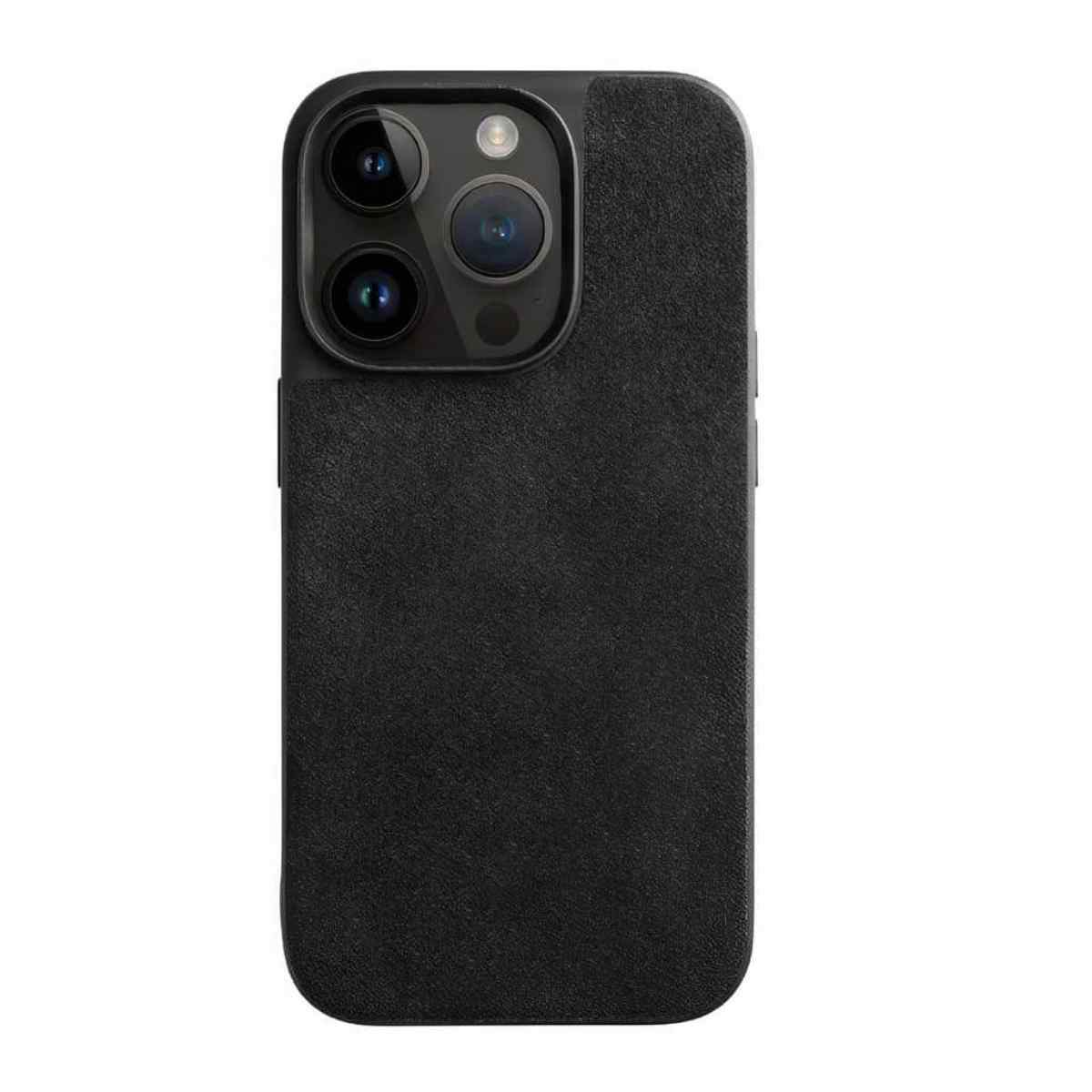 More Information about our Alcantara Cases
Magnets & Magsafe Alcantara Case Care
Regarding MagSafe accessories, it is important to know that the magnets in some cases by our competitors may interfere with the functionality of these accessories. However, our material Alcantara is well isolated with an extra layer of weave - And our phone cases are designed with interior magnets that are positioned in a way that does not affect the functionality of MagSafe accessories.
This is why we are the best source of information about Alcantara accessories, we go the extra mile to educate our customers - You have learned a lot about Alcantara phone cases and why GENTCREATE makes the best of the best. We take pride in the quality of our Alcantara material cases. Our commitment to customer satisfaction is reflected in our shopping experience, which includes personalized customer service and a wide variety of customization options. And don't just take our word for it, check out our customer testimonials to see what our customers have to say about their GENTCREATE Alcantara phone case and their shopping experience. Never settle for an average case again, instead allow us to surprise you and show you why GENTCREATE is the #1 Alcantara accessories brand in the world.
Gentcreate uses Alcantara material which is sourced from the finest materials in Italy, the same material used in luxury sports cars, and the finest yacht interior spaces. Meaning that our cases are not only functional but also offer a unique aesthetic that sets them apart from other phone cases on the market - we make sure that our Alcantara is certified and made originally.